The Software
dRofus is a unique planning, data management and BIM collaboration tool that provides all stakeholders with extensive workflow support and access to building information throughout the building lifecycle.
Unlike any other planning tool on the market, dRofus was developed directly on behalf of public building owners. Capturing client requirements (EIR), validating design solutions (BIM) against client requirements, management of public standards and equipment planning are core features in the software.
dRofus has strong ArchiCAD, Revit and IFC integration with bi-directional data sync capabilities.
Model data from each discipline is captured, together with planning data, non-geometric data and documents, in a centralized database accessible to all project stakeholders via the dRofus desktop client and dRofus Web.
Typically, stakeholders produce data using different software programs that have different data schemas, with different filetypes, distributed across multiple servers, located in multiple different locations - and often this data is not re-usable by others.
This is why dRofus has become an essential tool for BIM projects - we consolidate disparate data sets and convert them into project information, insight and intelligence accessible to all project stakeholders.
Video:

Introducing dRofus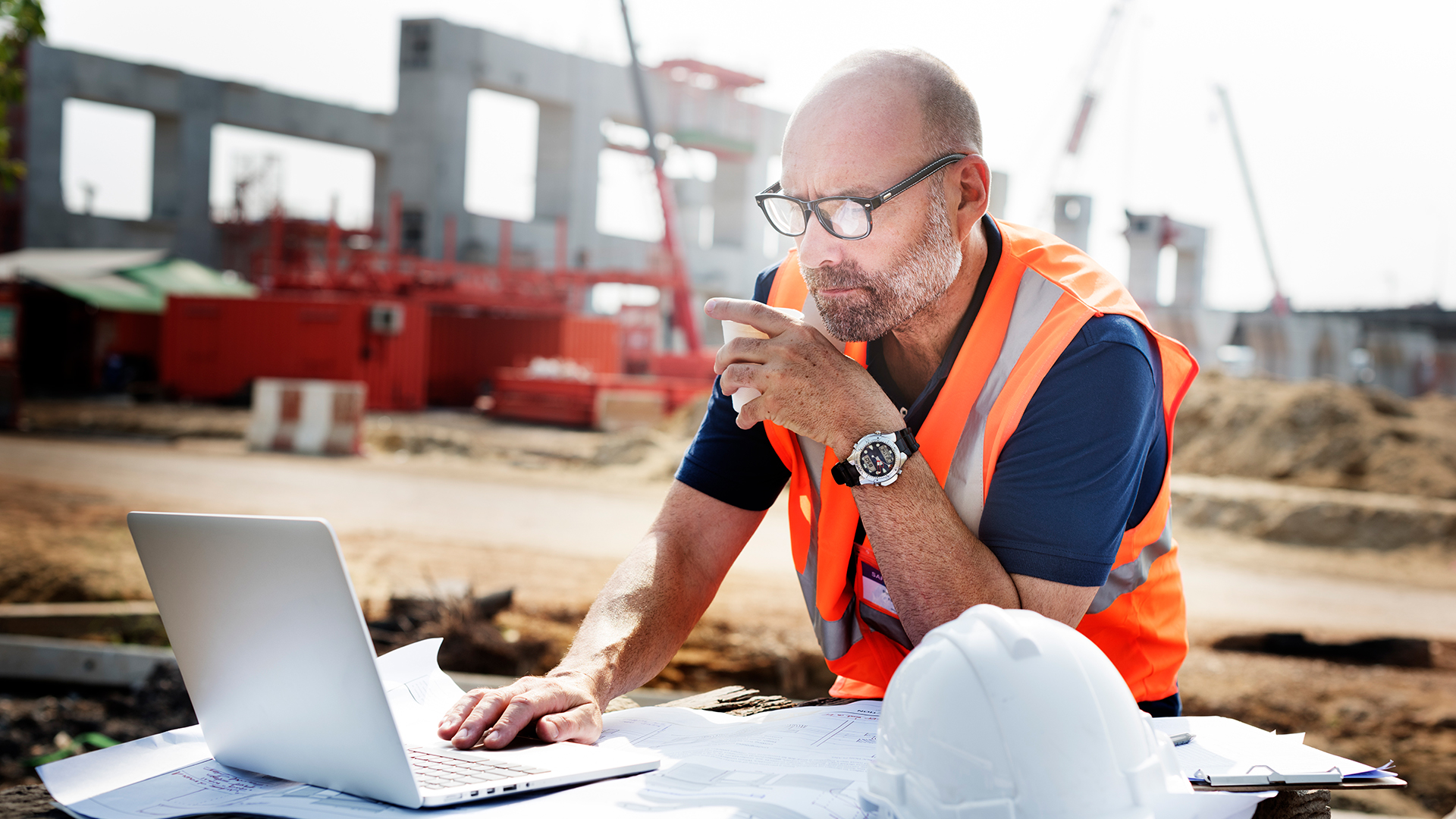 A BIM data tool for all stakeholders
Architects, Engineers, Building Owners and BIM Managers work smarter with dRofus.
Key Features
Data Centric Approach to BIM
Plan, create and manage building data input from every stakeholder capturing relevant building/project information for all objects in BIM, cross domain, discipline and model; including data outside of the BIM platform.
Design Integration
dRofus` advanced plug-ins to Revit and ArchiCAD provide excellent workflow support for architects and engineers. Integrate program data with design for validation of building requirements and bi-directional synchronization between dRofus and project models.
Data Standardization
Capture client requirements and manage facility standards across multiple projects. Room templates and global items catalouge help standardize rooms and content to kick start new projects.
Track Changes
All changes applied to dRofus are logged. The logs will show who changed what and when. Apply log notes and use changelists to communicate why changes were made. Advanced search capabilities make it easy to schedule or report relevant changes.
Reports and Exports
dRofus has over 70 built-in PDF reports and Excel exports. We can also create custom PDF reports to fit the project/organization requirements.
Secure and Accessible
Data is securely stored on a central server, allowing users to connect and read data regardless of their physical location. All you need is a PC and an internet connection.User access rights are controlled to ensure data security. Read and write permissions are controlled on a detailed level for all modules in dRofus.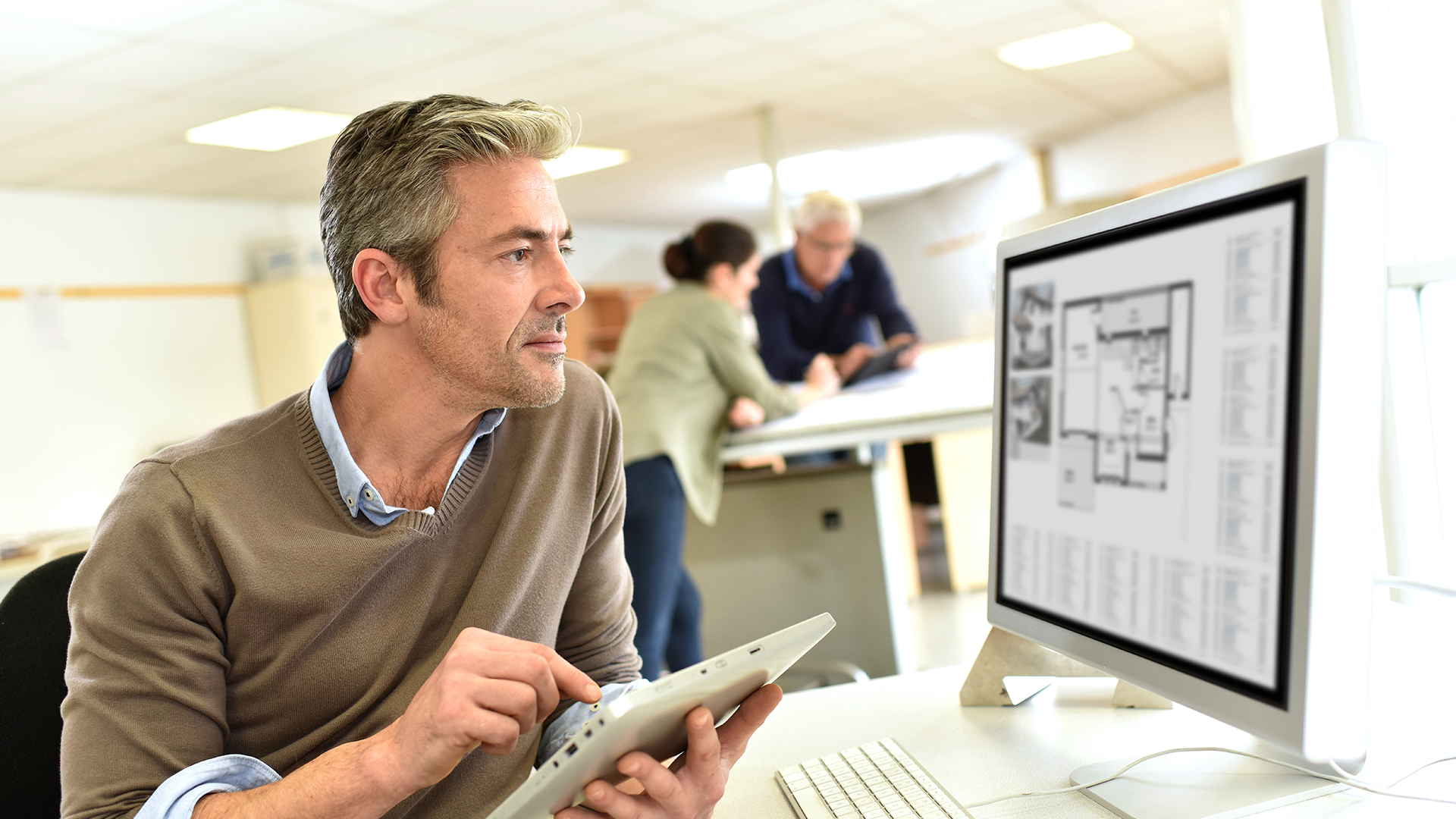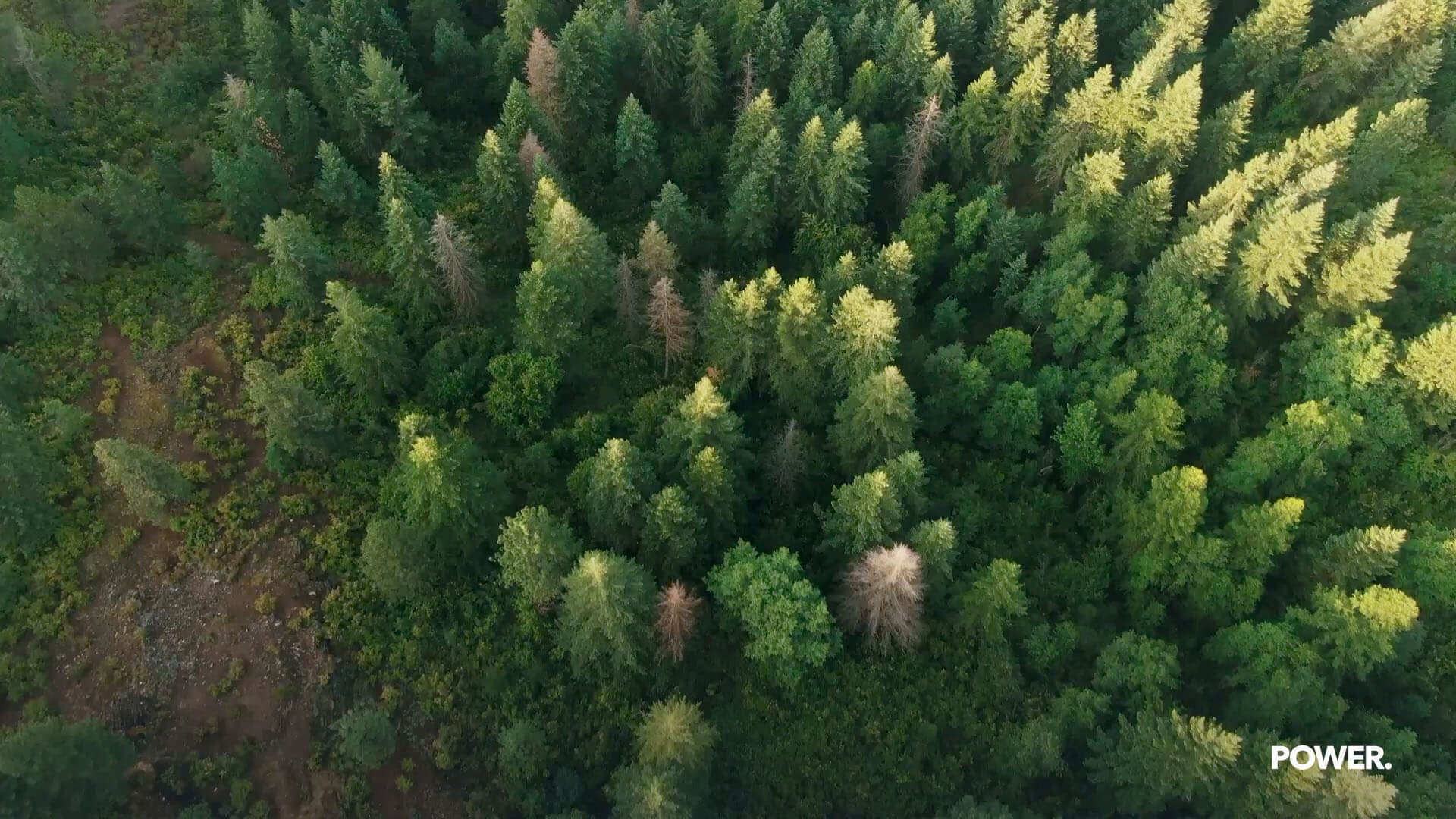 dRofus helps the AECO Industry work smarter
Let's chat and discuss which solution works best for you and your company.
Planning
Design and Collaborate
Revit and Archicad add-on
dRofus Web
Reports
Get more out of your planning
Welcome to dRofus! Planning has never been easier. With dRofus, start by capturing the owner's program requirements to establish room needs and functions, guiding the building design. Have your whole team participate in the planning process by having the information in one shared location.
Discover how dRofus makes planning seamless.
Everything you need, no matter where you are
As a cloud-based solution, dRofus can connect geographically distributed teams and multiple models to a single database. We provide real-time, anywhere access to the most current planning and design information without needing to know how to open a 3D-model.

Now all team members can actively participate in planning and design with assurance that their information is connected and accessible to all. Watch the video to learn how dRofus can help you reduce effort confirming that models meet room design requirements from hours to minutes like we have done for HDR.
See how a collaborative platform can take you to the next level.
Manual takes time. dRofus doesn't
Design with dRofus is faster and more accessible.Through our Archicad, Revit and IFC integration we allow teams to validate design requirements agains model development in real-time. No need to manually confirm room design requirements with our advanced BIM plug-in to integrate program data with design.

Find out how to make BIM work for you.
Access information from anywhere
Being able to access project information from anywhere is more important than ever and dRofus Web finally gives you the freedom to take your project with you. Our intuitive web interface gives you the tools you need on your mobile device to access the information you need, when you need it. Everything from Room Data, to planned items and much more is all at your fingertips.
Easily edit requirements on the go

Quickly search an entire project to find what you're looking for

Seamlessly share links to specific data with team members

Visualize your building with our model viewer

Connect your IWMS platforms for up-to-date asset information

dRofus Web can help you eliminate countless hours planning, designing and operating your buildings

Do less. Get more.
Manage effortlessly. Your time is valuable and you shouldn't have to waste it trying to manage disparate, disconnected data. With dRofus, you save hundreds of hours per project with over 70 built-in PDF reports and Excel exports. Can't find something you need? You can also utilise a report template authoring tool, to create specialized reports your own.
Ready to let data inform your design? Watch the video to learn more.



Modules
Smart modules will handle the most demanding workflow with ease.
Room overview
dRofus gives you the ability to structure the planned rooms in a project in a a clear, organized manner. All rooms are assigned with a unique room function number, programmed area and other project defined parameters. dRofus enables all involved parties to access room and area overviews.


Unique numbering of all rooms
Apply project defined parameters to rooms
Organize rooms into project defined groups such as zones, room categories, user groups, etc.
Import programs/rooms from Excel, Revit, Archicad or IFC
Synchronize room data with Revit or ArchiCAD using bi-directional plug-ins
Import designed models in IFC format, visualize and see the rooms' actual locations
Check and synchronize data via IFC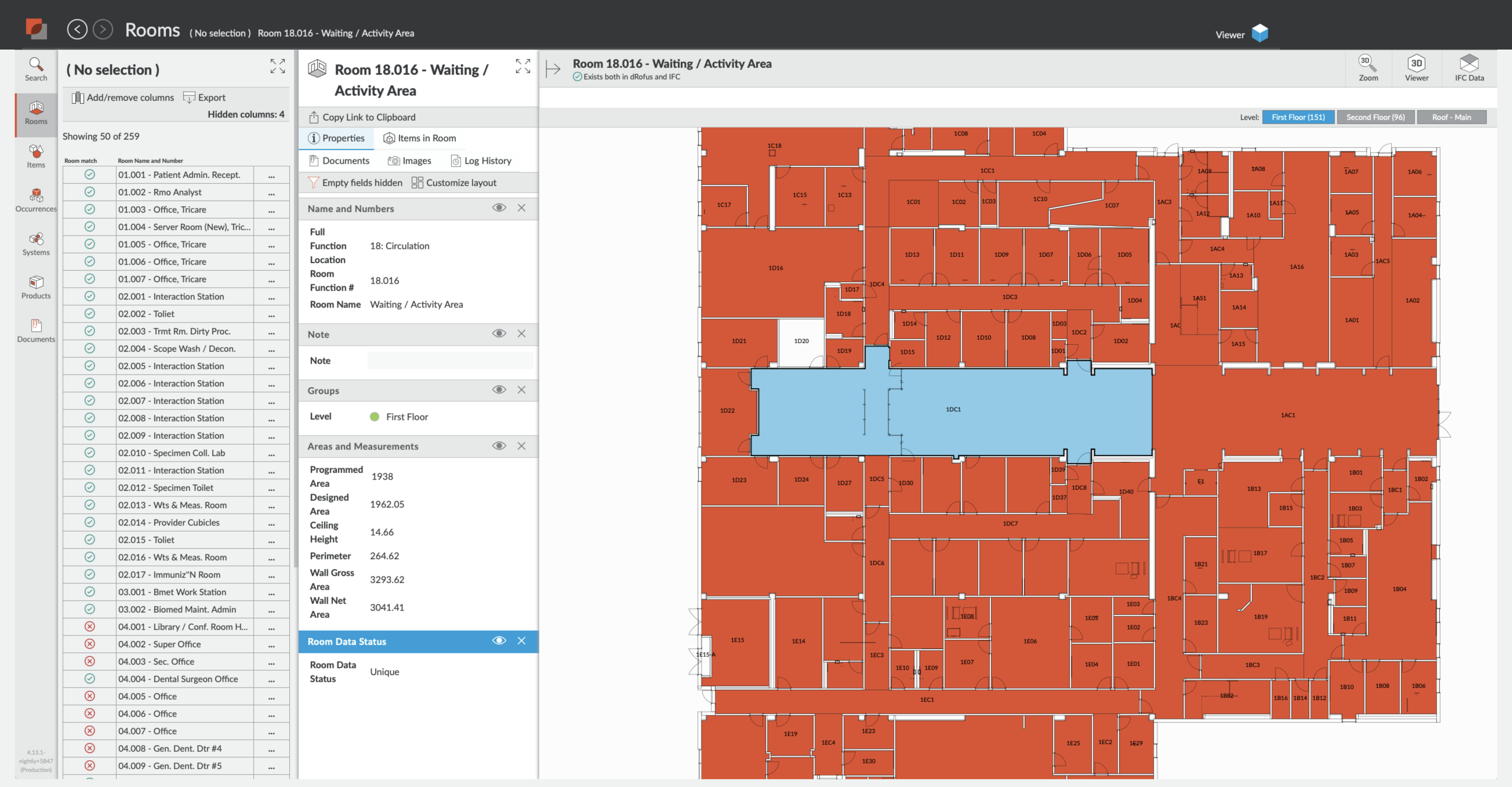 dRofus Web: Room overview connected to an Architectural IFC model for navigation and validation of design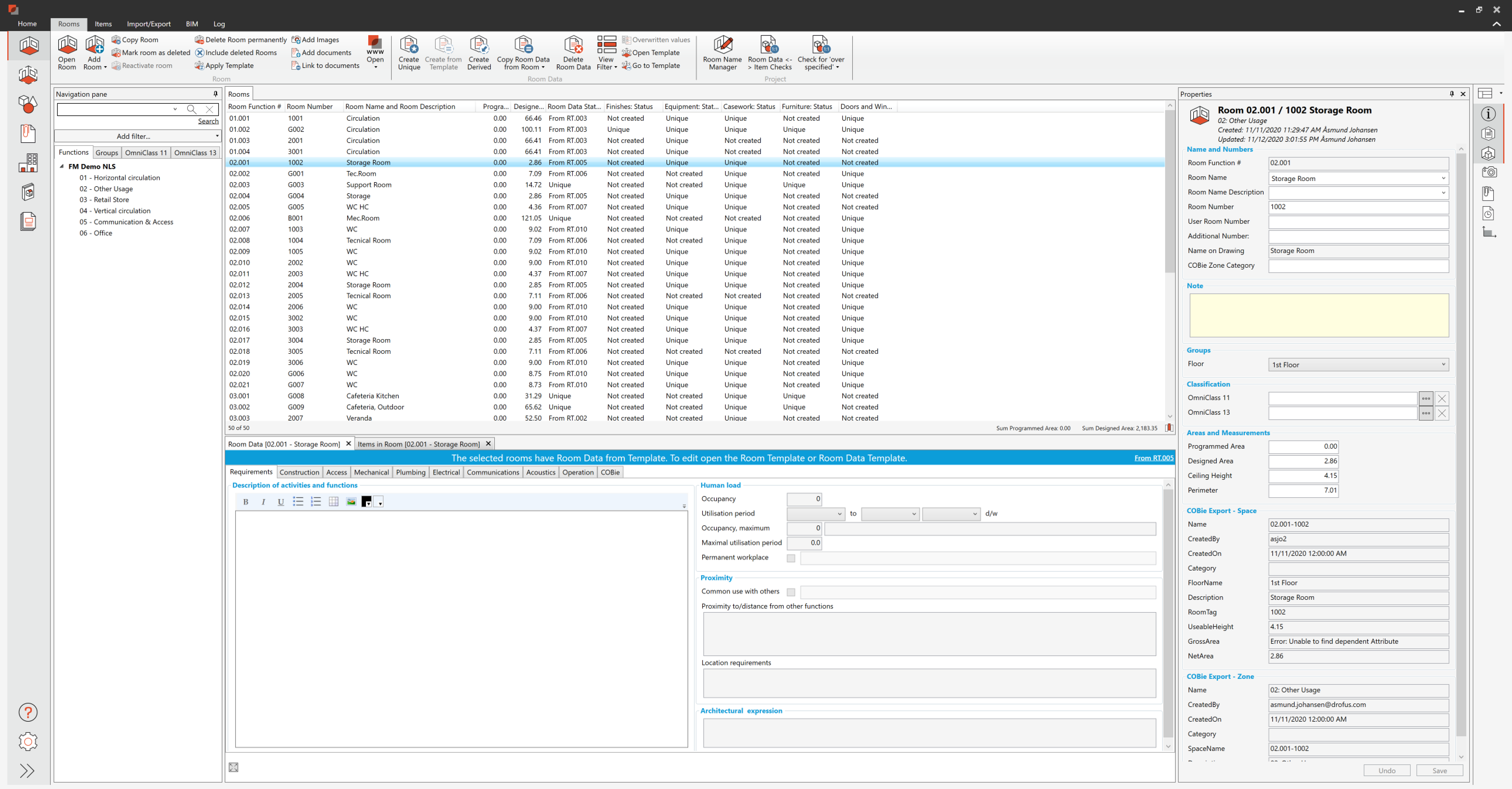 Room overview with Department structure to the left and associated rooms with room core exposed to the right
Room Data Sheets (RDS)

All rooms can be assigned a Room Data Sheet (RDS). The RDS contains the project requirements and/or other information specified for the rooms. The information can either come from project defined room templates or be completely unique. dRofus comes with a built-in RDS setup, but users are free to define which fields to be included, or to simply make a customized RDS from scratch. RDS can be reported/exported to PDF, Excel, xml, IFC or synchronized as room parameters directly to design models using plug-ins.
Assign project-related requirements to rooms
Rooms can inherit requirements from templates, room groups or be allocated unique requirements
Validate program requirements in RDS against planned and designed equipment (Items)
Present RDS data in Revit or ArchiCAD using bi-directional plug-ins
Print RDS reports with images, key plans or other graphic elements
Augment IFC model with requirements from dRofus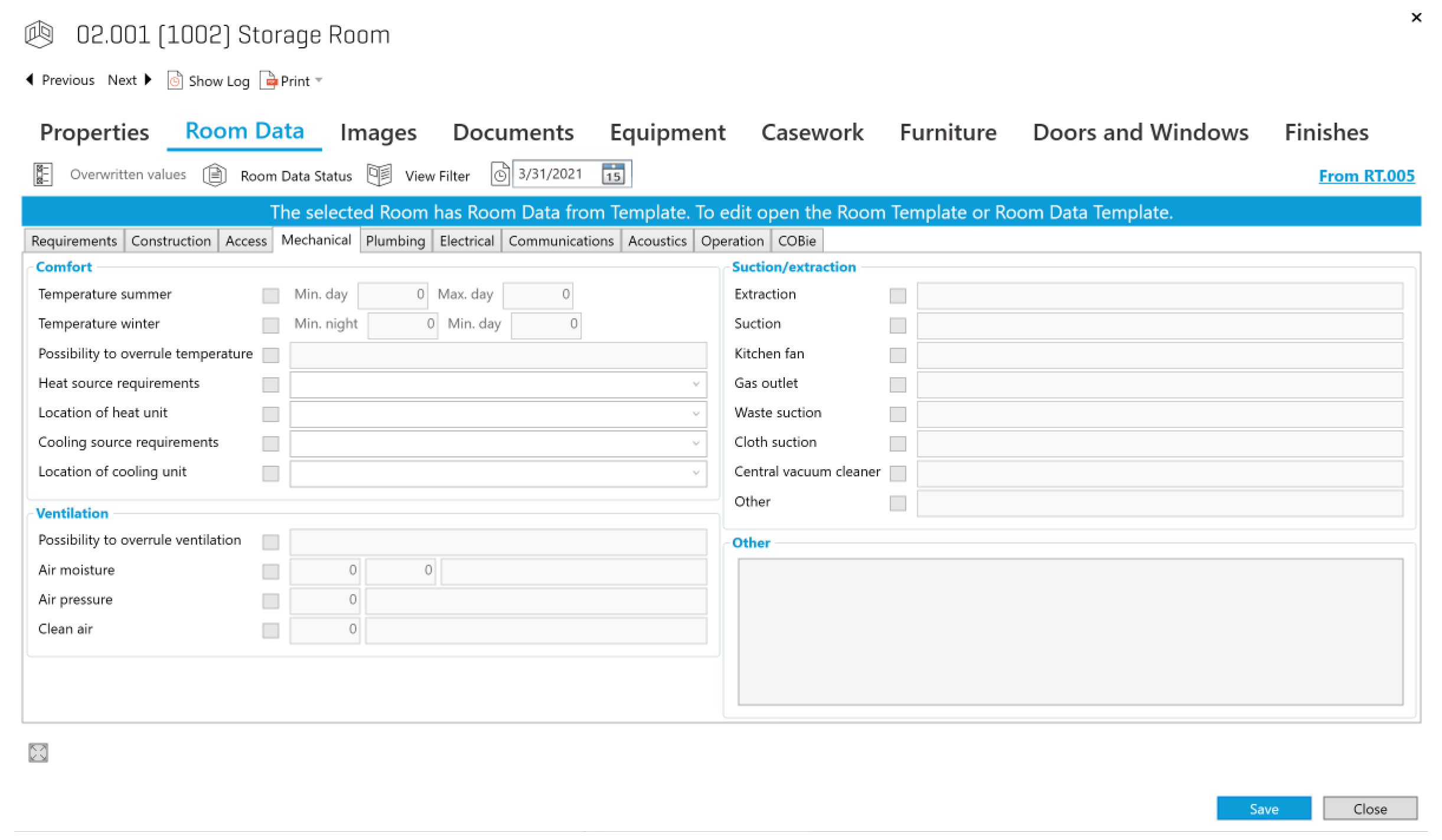 Room Data Sheet setup can be customized to your project needs. Use dRofus' built in editor to make it exactly how you want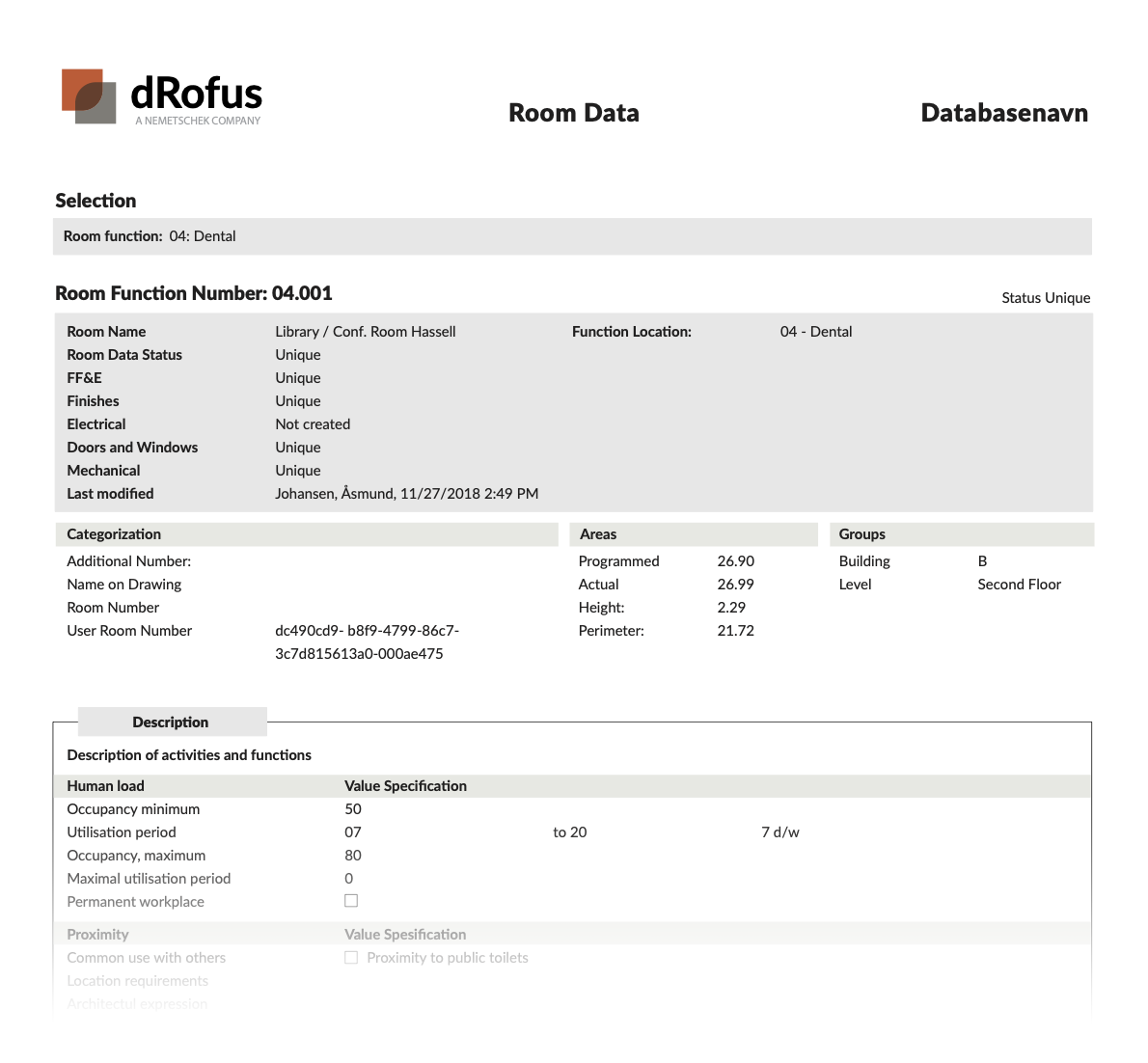 Example of a PDF output of the RDS. dRofus provides both built-in and customizable reports
Items
Register and manage all room contents and building elements such as furniture, fixtures and equipment in the dRofus Item module. dRofus is delivered with a built-in register of Items, but it is also very easy to customize the register to fit the project needs. Organize Items in project defined groups and create items directly in dRofus or create BIM objects as Items through plug-ins.
An Item can be attached to a room template or a unique room in the room list. This forms the basis for quantity take-off, costing and procurement calculation for the equipment in the project. Existing Items are recorded in a separate register and linked to the rooms, automatically calculating the net item quantities to be procured.
Create and assign Items to responsibility groups, budget groups and tender groups
Describe and specify Items in a project defined form
Create Item lists for the rooms via templates or unique Item lists
Check and synchronize Item quantities in rooms with Revit or ArchiCAD using bi-directional plug-ins
Synchronize Family/Object parameters with dRofus Items
Check and manage Item specifications with room requirements in RDS
Register existing Items and link to the planned rooms for net quantity calculation
Check Items and quantities against IFC model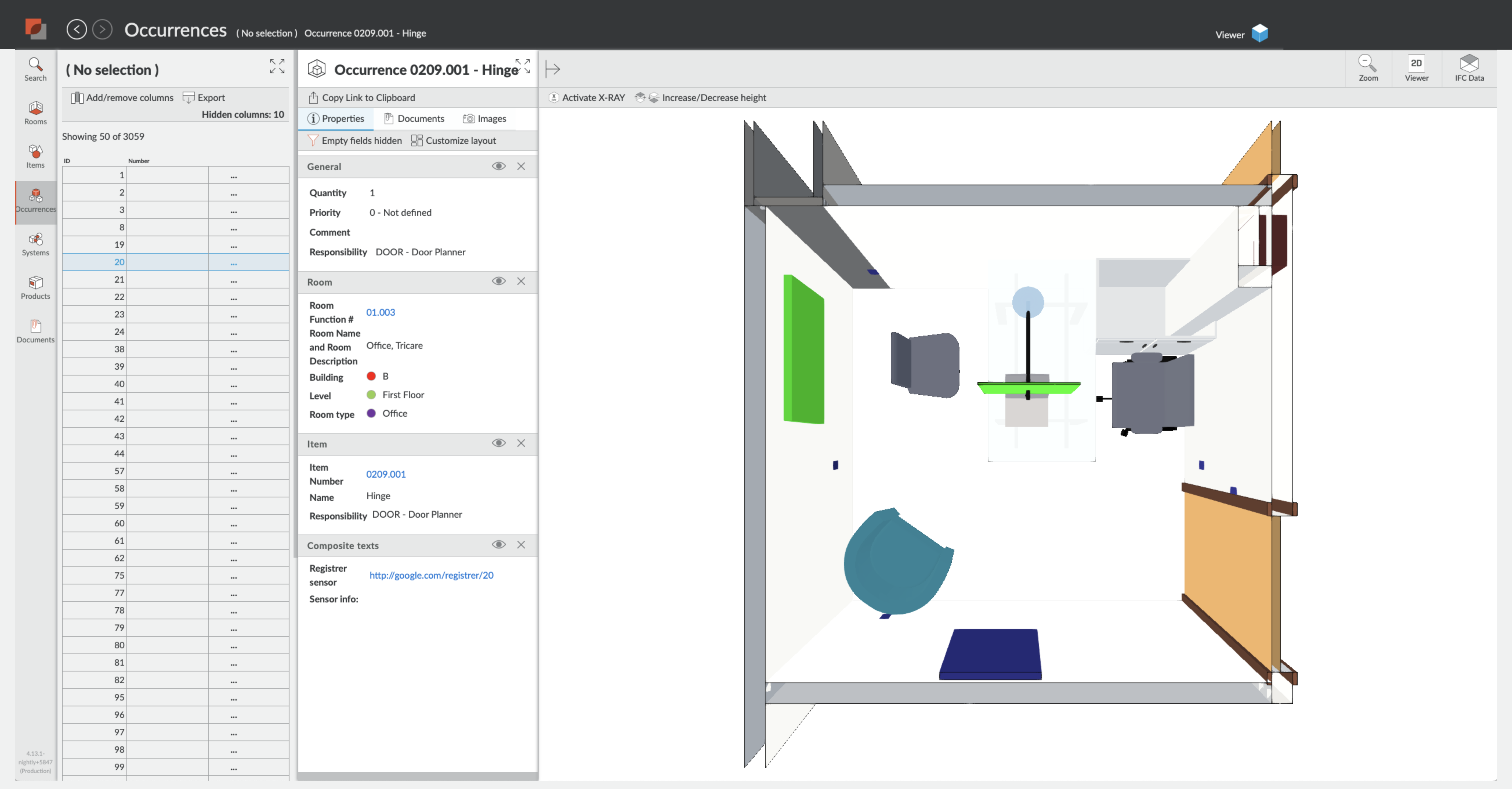 dRofus Web: Item Overview connected to IFC model for navigation and validation of types and quantities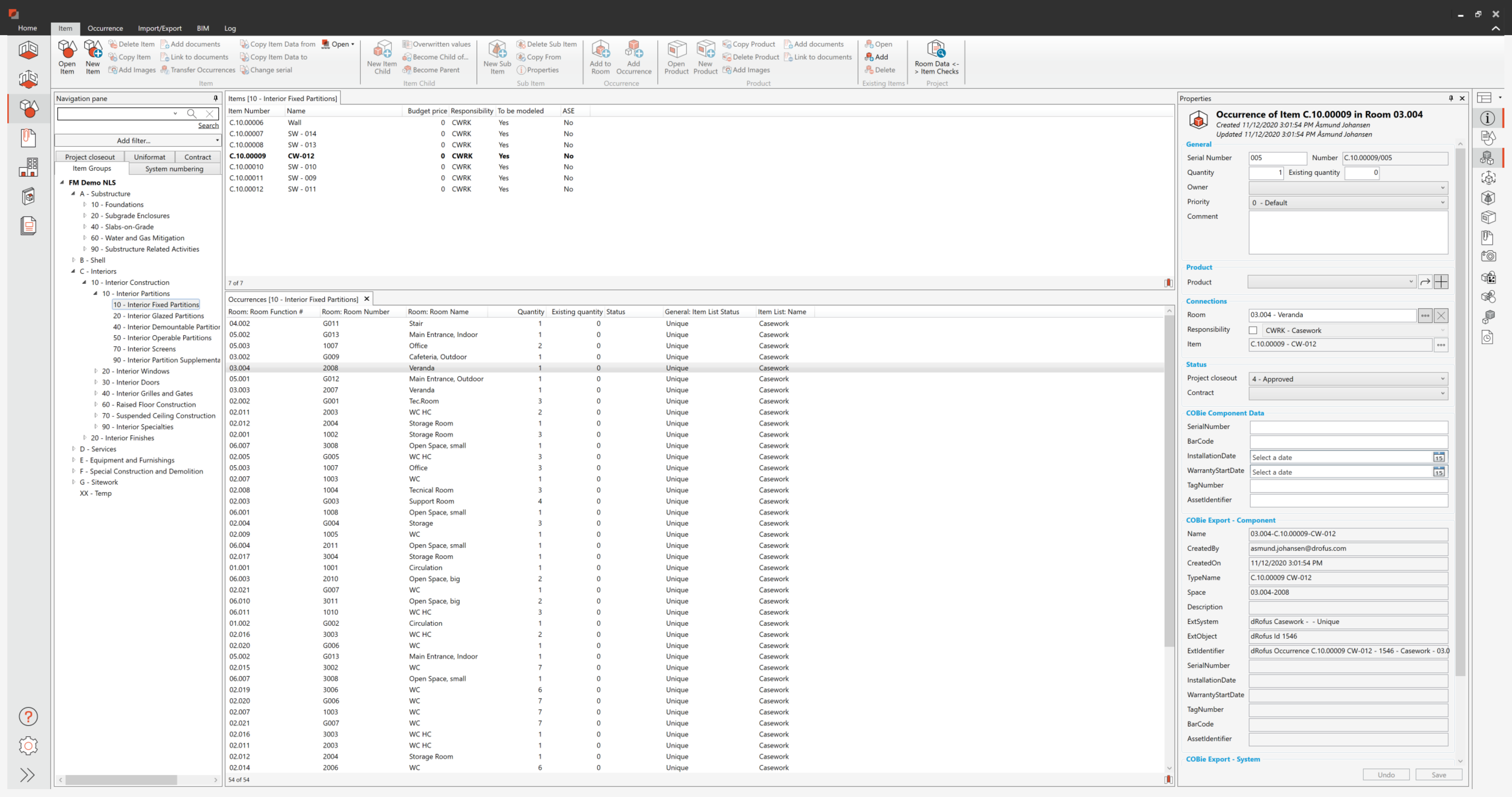 Items organized in Item groups. Customize views by adding columns to the list
Finishes

In dRofus, you can assign finishes to rooms via either room templates or to individual rooms directly. Finishes are first established in the Items module and then added to rooms in project defined categories. Examples of categories are Floors, Walls, Columns and Ceiling. Finishes can easily be reported in various reports, quantified and linked to BIM objects such as Revit materials.
Organize finishes in project defined categories
Add project defined parameters to finishes
Generate Finishes schedules and specifications reports
Synchronize finishes as room parameters or connect them to Revit Materials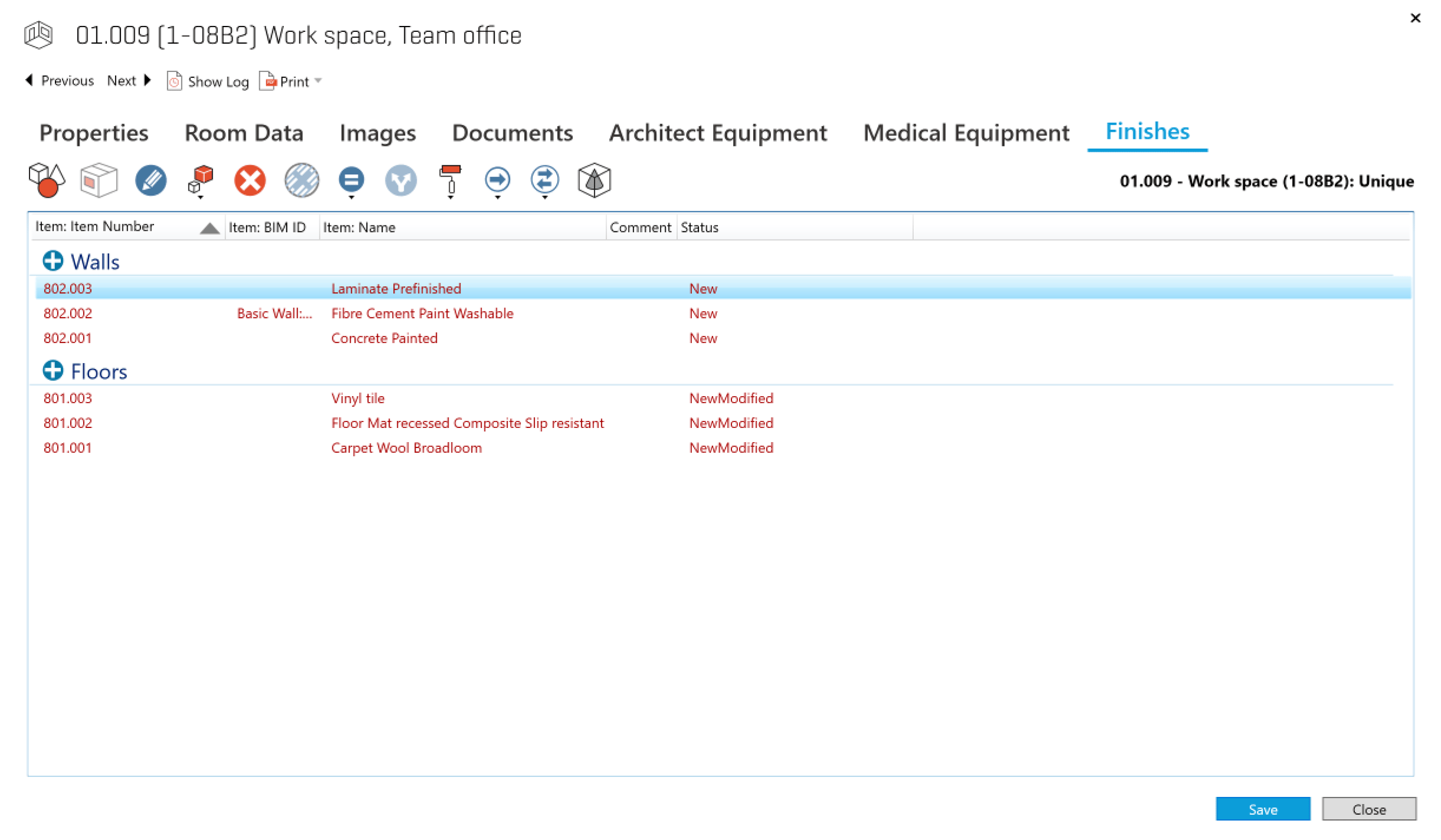 Attach finishes to project defined categories. Schedule quantities and link with Revit materials
Systems

Systems can be created in dRofus or imported from Revit using plug-ins. Organize and maintain all data on systems and associated components in a structured environment. Attach Products and Documents to assemble as-built documentation for handover to facility management. Systems in dRofus support the use of multiple classifications and provide multiple field edit functions for fast data entry. dRofus helps manage all systems and components inside and outside the BIM.
Organize Systems and Components in a user friendly environment
Manage systems and components across domains, disciplines and models
Attach products, documents and images to systems and components
Attach classifications and other parametric data to systems and components
Synchronize with Revit and export to IFC, Excel, PDF, XML or COBie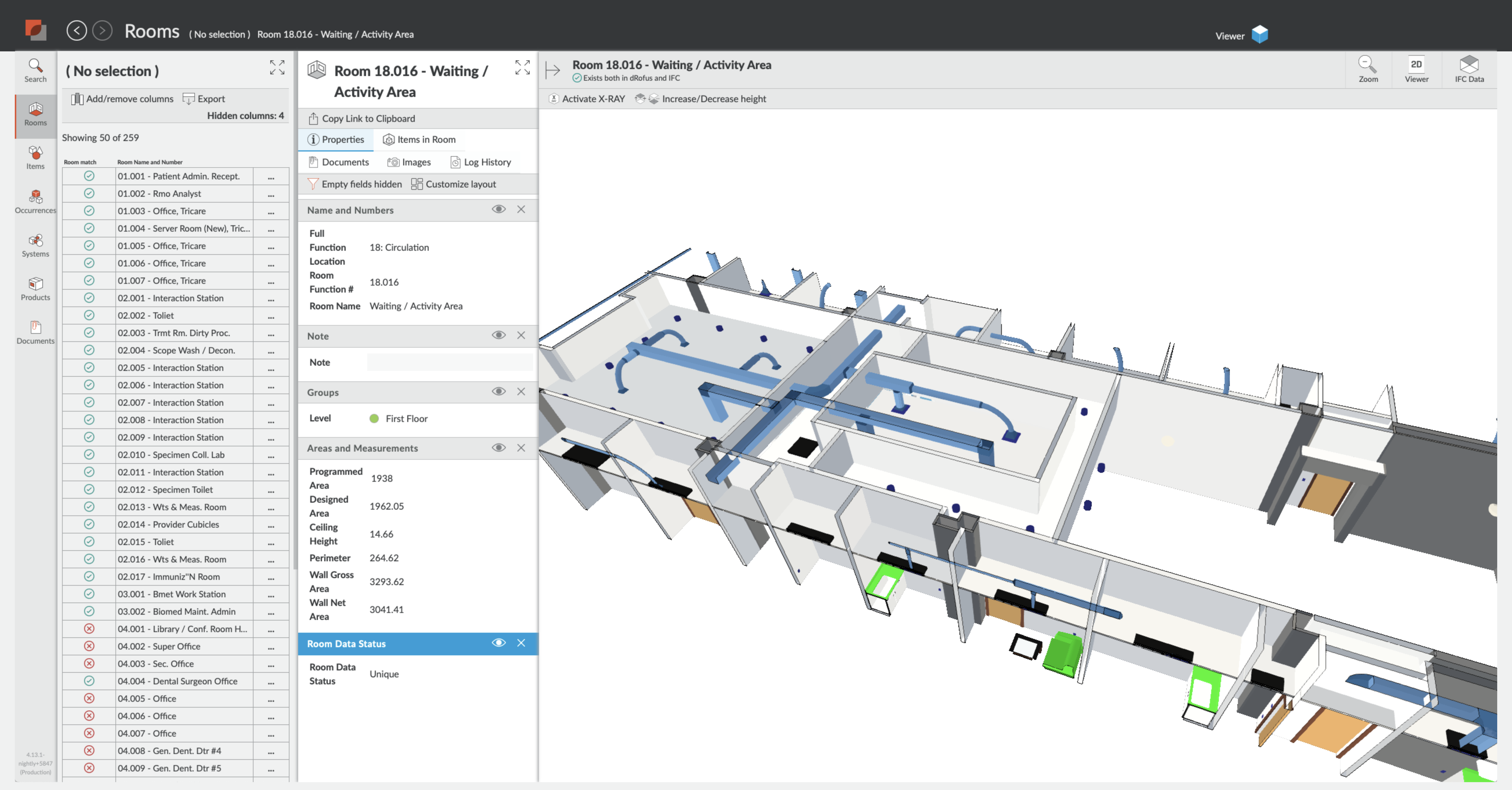 dRofus Web: Systems Overview connected to mechanical IFC file. Visualize through systems and components for total overview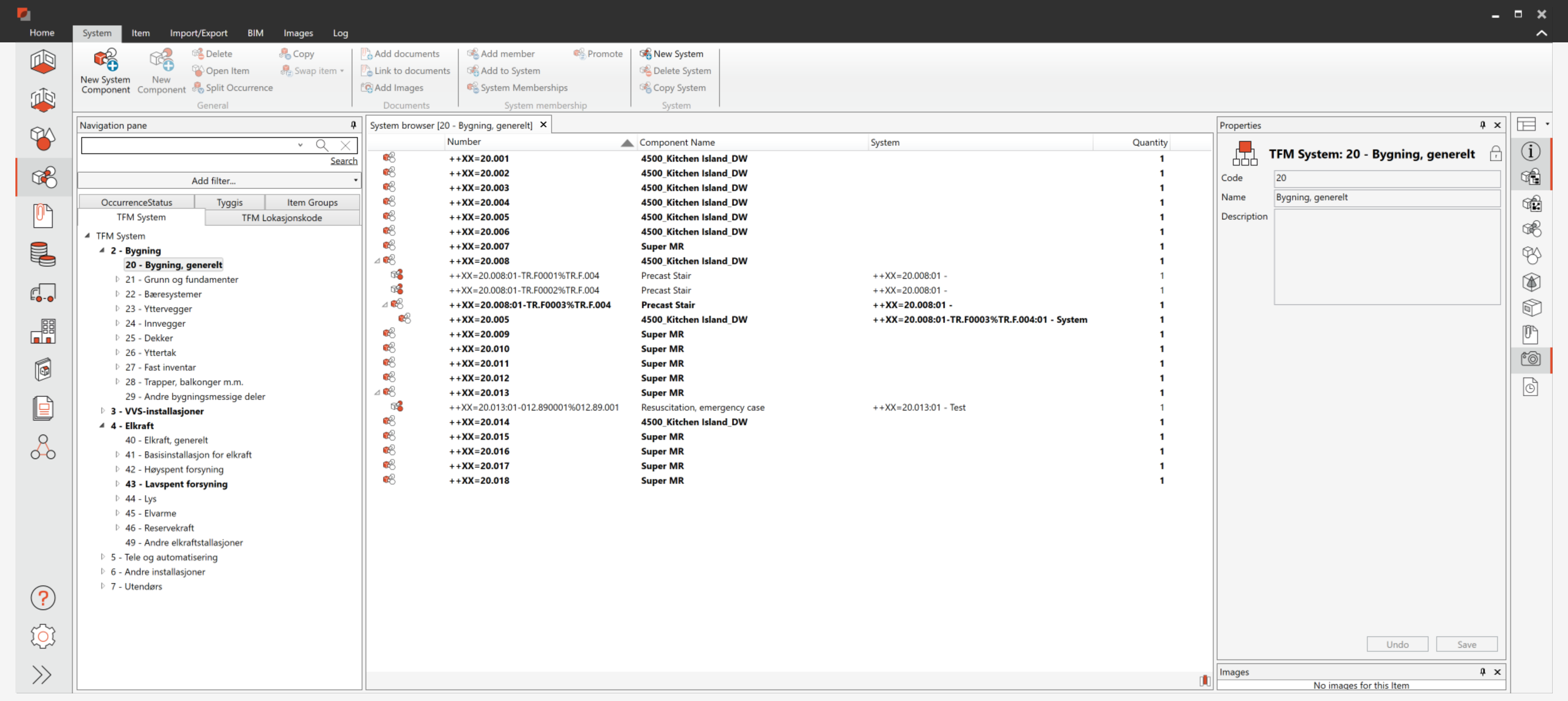 System Module manages all systems and associated components with data and documents, with bi-directional sync with Revit
Function Program

In the Function program, you can define and register early phase requirements of a project, department or sub-departments, even before you have a confirmed list of rooms. Without dRofus, these requirements are typically scattered in various documents and worksheets. With dRofus, various sets of requirements can be specified in a centralized location in a consistent and structured manner for the project. This makes it easy for designers and the project team to find the relevant information efficiently at any time.
Collect and manage project, department and sub-department requirements in one centralized location
Export function program to Word, Excel or standardized PDF reports
Create project defined requirements and other relevant information
Retrieve and possible reuse of data from previous projects
Export function program to IFC for reading in BIM
Add images and documents as attachments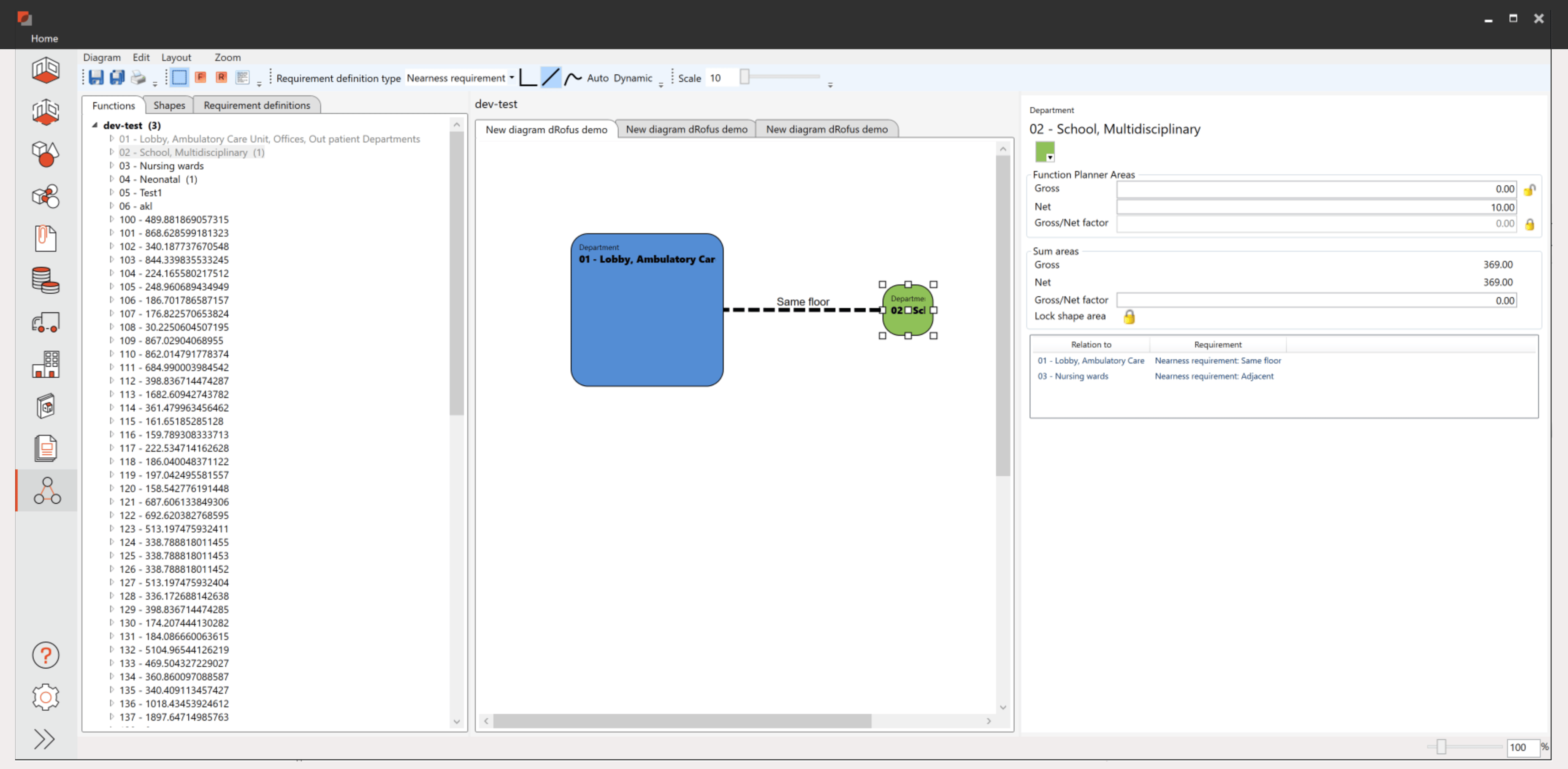 Graphical Function Planner with adjacency requirements between Departments and Rooms
Procurement
The Procurement module can be used to manage the planned Items through all steps in the procurement process.
During the entire procurement process, the users can control which Items are to be purchased, and in which rooms the Items are to be located, whether they are in tender, offer, agreement or order status.


Assign planned Items into suitable tender groups
Transfer descriptions, specifications and quantities from planning to the procurement module
Export reports to tender documents
Monitor and manage Item expenditure
Maintain vendor registry
Delivery
Orders created in the Procurement module can be transferred to the Delivery module.
In the Delivery module, the Items can be split into individual instances for attaching unique data such as registration and serial numbers.
Provide control of the overall delivery schedule as well as monitoring individual deliveries
Assign order information and project defined order status for all Items or individual Items
Allocate unique registration and serial numbers to Items
Connect directly to a label printer for marking of Items with unique serial numbers
IFC and BIM
dRofus Web supports full multi-model visualisation! This opens a whole new world of sharing all your core building data, program and equipment validations and design models among all your stakeholders – purely web based.
In the Client, we have enhanced our read/write capabilities of IFC files. You can link all attributes on rooms and equipment dynamically between dRofus and the chosen IFC file. You can still visualize your IFC files in the Client, but we separate between single-model visualization in the Client (locally stored) and multi-model visualization on the web (cloud stored)
We continuously strengthen our commitment of supporting open standards. Watch out for new features in our IFC support the coming years.
dRofus supports both importing and exporting IFC.
Synchronize your room data with an IFC model
Validate rooms, areas and equipment between dRofus and your model
Visualize functions, departments, rooms, zone, equipment and RDS requirements
Augment IFC with dRofus data for contributing client and end users requirements to BIM
Powerful multi-model visualisation and program validation in dRofus Web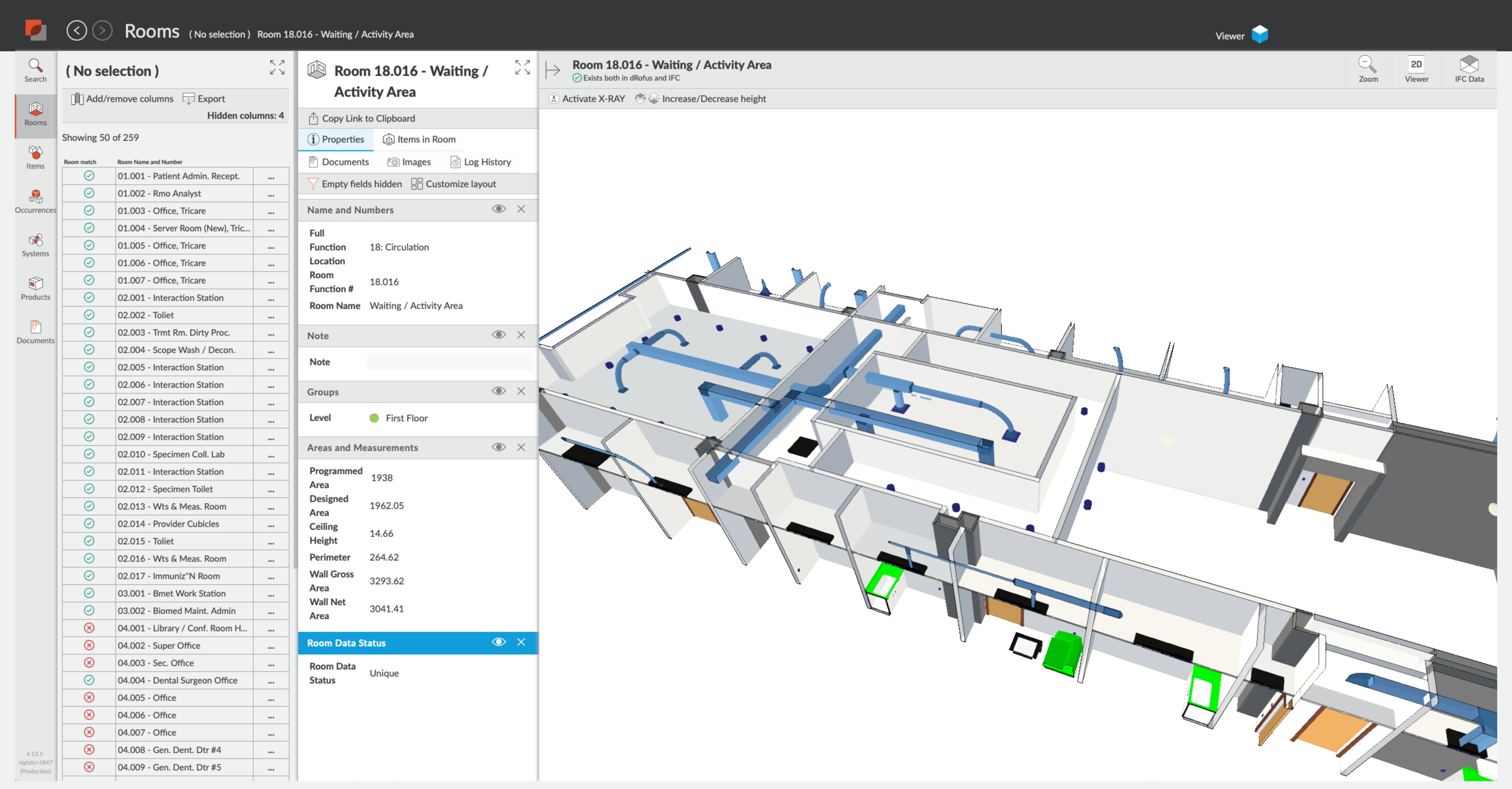 WE LOVE CODE, BUT...
YOU DON'T HAVE TO LOVE CODE. WE GOT YOUR BACK.
We provide you with a clean and effective code behind the scenes. You will work with HubSpot\'s drag-and-drop editor and our POWERful module options.